Welcome!
This informative web page was created to help you learn more about…
The Importance of Healthy Skin
Healthy skin is glowing and radiant, not red and irritated. Yet, so many of the skincare products on today's market are direct causes of redness and irritation.
It's not just about looking good, although looking good is important. How we look affects how we feel, just as how we feel affects how we look. Luckily, it is possible to feel good about how you look while doing what's best for your skin's health.
The other factor, the part that's not just about looking good, has to do with your overall health and well-being. The bottles filling the shelves of the cosmetics aisle contain compounds that are known to be toxic.
Some of those compounds are cancer-causing agents. Others may contribute to birth defects. The list of health problems that may be caused by ingredients commonly found in popular skincare products includes:
liver damage
respiratory ailments
depression
anxiety
kidney damage
That's not even a complete list. In addition to those internal health problems, there are things like acne, clogged pores, blackheads, oily skin, dry skin and chronic redness. All of those problems may be caused by or worsened by using the wrong skincare products, which brings us to the main topic of this page.
How to Choose the Right Skincare Products
Consumers need help. Trying to read and understand a label of ingredients is difficult, if not impossible. One thing to look at is the number of ingredients. If the list is long and you see words like propylparabens or betaine, you are not looking at a good skincare product.
When someone has an allergic reaction, dermatologists advise them to read the label of ingredients and avoid the suspected allergen. But that's not easy to do either. Sometimes there are many common allergens in a single product!
Purchasing products that are supposedly hypo-allergenic may not be the solution. There are no legal regulations concerning the use of terms like that. When it comes to buying skincare products, it's "let the buyer beware". There are few regulations in place to protect the consumer.
Manufacturers could help protect the consumers and some are starting to show more concern for their customer's health by reducing or eliminating ingredients that are common allergens and irritants, as well as those that are known to be toxic. The well-known big-name manufacturers have yet to adopt these consumer-friendly policies. So, another thing you may want to do is avoid the big name brands. That may make it easier for you to find safe, healthy skincare products without becoming an expert in cosmetic ingredients.
The easiest solution of all is to find a company you can trust. It's not only the easiest choice but also the best in the long run for protecting your skin's health and appearance, while protecting your overall health. Next, we have some helpful hints for choosing a trustworthy manufacturer, your "go-to" company for healthy skincare products.
Finding a Trust-Worthy Company
Manufacturers often use advertising phrases like "a name you can trust". But how can you be sure? There are certain things to look for, regardless of what kind of product you are buying, and specific things to look for when it comes to choosing the healthiest skincare products. Let's start with the general things to look for.
A No-Risk Guarantee
If you buy a bottle of lotion from a drug store or boutique, you probably will not be able to return it. Opened bottles are generally not refundable. If you're lucky, you might be able to get an in-store credit. But the whole process will be a hassle, even if you have a good reason for returning a product, an allergic reaction for example.
A company that is trust-worthy and confident in the quality of their products will offer a no-risk guarantee. The best companies give you plenty of time to try their products and returns are hassle-free.
Secure Ordering System
If you're like most people, you like to take advantage of the convenience of online shopping. You can compare products and prices in the comfort of your home. You can have the products you select shipped to your door. What could be easier?
The disadvantage to shopping online is that your information may not be secure. Credit card numbers can be captured and stolen. The best companies offer a secure ordering system because they want their customers' to be protected.
Good Reviews
When you're buying anything, it's always a good idea to read online reviews. Any company could have a bad review or two, but lots of bad reviews is a bad sign. There's no need to take chances. You can find a company that gets good reviews and offers a complete line of safe skincare products, which brings us to the specific things common to trust-worthy manufacturers of skincare products.
All Ingredients Are Safe Enough to Eat
You don't have to be a cosmetic ingredient expert when the manufacturer promises that all of the ingredients in their skincare products are safe enough to eat. Wholesome natural ingredients can improve your skin's health and appearance.
Instead of petroleum-based moisturizers like petrolatum, you want natural emollients like Shea butter and grape seed oil. These safe ingredients nourish your skin, just as the food you eat nourishes the rest of your body.
Your skin needs some extra nutrition, even if you eat right and take good supplements. You skin also needs protection from the elements. That's what the best skincare products do…nourish and protect.
All Ingredients Are Effective
Most skincare products, even the expensive ones, contain inactive ingredients. The product cannot live up to manufacturer claims of smoother, firmer, more beautiful skin. It's impossible if the ingredients are not effective.
Effective ingredients are expensive. Manufacturers like to include a drop or two of a well-known effective ingredient in a large bottle of ineffective petroleum-based ingredients to keep their costs down, even as the price goes up.
Some effective ingredients and what they can do for your skin are listed below.
Coenzyme Q10 – proven to reduce sun damage (wrinkles, roughness, age spots, etc) with regular
Grape seed oil – moisturizes and creates an invisible barrier to keep moisture in; makes an effective primer for makeup
Shea Butter – helps with acne, eczema, dryness, roughness and wrinkles
Wakame kelp – proven to increase the skin's hyaluronic acid content, which improves firmness and reduces wrinkles
Combines the Best of Science and Nature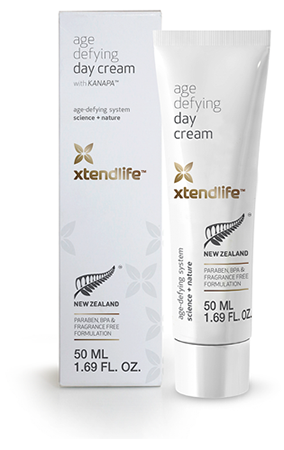 If you cut open a coenzyme Q10 supplement and apply that to your skin, you won't get the results mentioned above, because the nutrient will not be well-absorbed into the deepest of the skin's layers to reverse damage done by the sun. Scientists have learned that COQ10 molecules can be reduced in size to improve skin absorption. It is these smaller molecules that have proven benefits for skin health and appearance.
The same is true of grape seed oil, Shea butter and wakame kelp. These natural ingredients need a little help from science to be truly effective.
One of the most effective ingredients in terms of reducing fine lines, increasing firmness and literally de-aging the skin is derived from the same protein that make up the skin's cells. It takes a scientific process to transform the naturally hard protein into a nutrient that your skin can absorb. Right now, only one company has the ingredient. It's called Xtend-TK.
Xtend-TK is a proprietary ingredient found only in click here to visit the Xtendlife website. Xtendlife is a manufacturer that you can trust. Every one of their products contains large quantities of the most effective ingredients available today and all of the ingredients are safe enough to eat.
Every purchase is without risk because of Xtendlife's money-back guarantee, a guarantee that is unlike any other. If you are not completely satisfied with your purchase, you can return the unused portion of the product within one year for a refund.
Every order you place with Xtendlife is safe and secure. The company's website is certified by IP security specialists. The Xtendlife facility is an FDA inspected facility. They abide by good manufacturing processes and hold a variety of certifications that set them above the competition.
If you are ready to have the healthiest, most beautiful skin you can have, click here to visit the Xtendlife website and learn more about their complete line of excellent skincare products. The best skin of your life is just a mouse-click away!